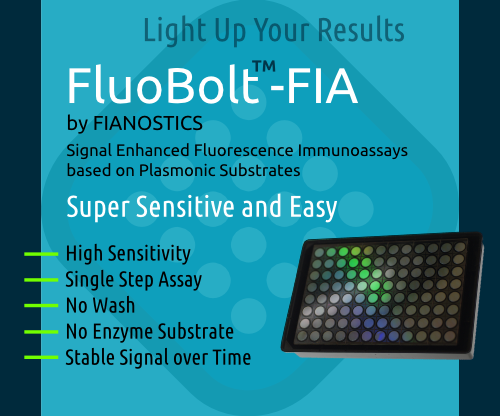 Eagle Biosciences, Inc. is excited to collaborate with Austrian biotech Fianostics, to offer a new fluorescence-based detection platform for immunoassays, called FluoBolt™, which enables highly sensitive assays with high reproducibility and reliability. This dramatically improves the informative value of research with biomarkers.
So far, Fianostics FluoBolt™ Metal Enhanced Fluorescence Immunoassays have been developed to detect
What Makes These Assays Different?
Fianostics FluoBolt™ Metal Enhanced Fluorescence Immunoassays have been established to eliminate the complicated processes that come with your standard sandwich ELISA. By using their FluoBolt™ Metal Enhanced Fluorescence Immunoassays, you can expect
---
High Sensitivity!
Single Step Assay Procedure!
No Enzyme Substrate!
Stable Signal over Time!
100% Compatibility with 96-well ELISA Format!
---
About Fianostics
Fianostics combines scientific and technical expertise in diagnostics with the development of a high-tech detection platform that benefits in reproducibility from the excellent expertise of Sony DADC BioSciences in the production of polymer consumables for the diagnostic industry. Their know-how is not limited to the development of the new detection platform, but we also provide the diagnostic application with the appropriate immunoassays for specific clinical areas. (for research use only in the US)
About Metal Enhanced Fluorescence
Metal Enhanced Fluorescence (MEF) offers the possibility to dramatically increase the analytical sensitivity of systems based on fluorescence detection. MEF is based on the fact that excitation light interacts with the electrons of metal nano–structures thus generating very high electromagnetic fields (Localised Surface Plasmons, LSPs ) Therefore, such structures are also called
"plasmonic structures" and the combination of (e.g, polymeric) support and structure is known as "plasmonic substrate". These LSPs lead to an increase in emission output of fluorescent molecules (e.g. fluorescently labelled antibodies) when bound to surfaces with suitable nano-metal structures that can enhance the signal more than 100 times.