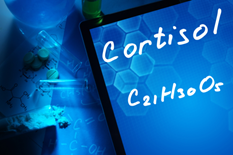 Cortisol Saliva ELISA is for Research Use Only. Not for diagnostic procedures.
Cortisol measurement by EagleBio Cortisol Saliva ELISA compared to LC-MS/MS
Salivary cortisol has been found to be a good index of stress with increased levels of cortisol correlating positively with increased levels of
stress. Cortisol levels rise slowly over time and take a while to return to base level, indicating that cortisol is more
associated with chronic stress levels.
Diurnal variation is a major factor for within-person variance because baseline cortisol levels have been known to
differ based on the time of day. For normally developing individuals who follow a typical day–night schedule,cortisol
production peaks during the last few hours of sleep. This peak is thought to aid in preparing the body for action and
stimulate the appetite upon waking.Diurnal variation is also affected by psychological conditions.
For several years the gold reference standard for ELISA has been the RIA method.

Now Eagle Biosciences performed a new study with the support of Università Cattolica of Rome, comparing the ELISA
results with the LC-MS/MS technique (mass spectrometry), obtaining a very good correlation between the two
methods: R= 0.94.
This study has been performed on 63 samples from healthy subjects, collected in different time.
The Cortisol Saliva assay is now considered by scientific community a reliable alternative to Urinary Cortisol assay.
Why Use EagleBio's Cortisol Saliva ELISA?
Easy stress-free, non-invasive method of salvia collection:
Making saliva one of the most accessible body fluids and potentially one of the most valuable in studying normal human physiology as well as pathology.
Excellent correlation between serum and plasma levels:
The majority of cortisol in saliva is not-bound and enters the saliva via intracellular mechanisms. Salivary cortisol levels are unaffected by salivary flow rate or salivary enzymes.
Excellent Correlation to LC-MS/MS
R= 0.94
Related Kits:
Cortisol Saliva ELISA Assay Kit
Testosterone Saliva ELISA Assay Kit
Related News:
EagleBio's Ultrasensitive Cortisol Saliva ELISA is a Valuable Tool in a Circadian Rhythmicity Study